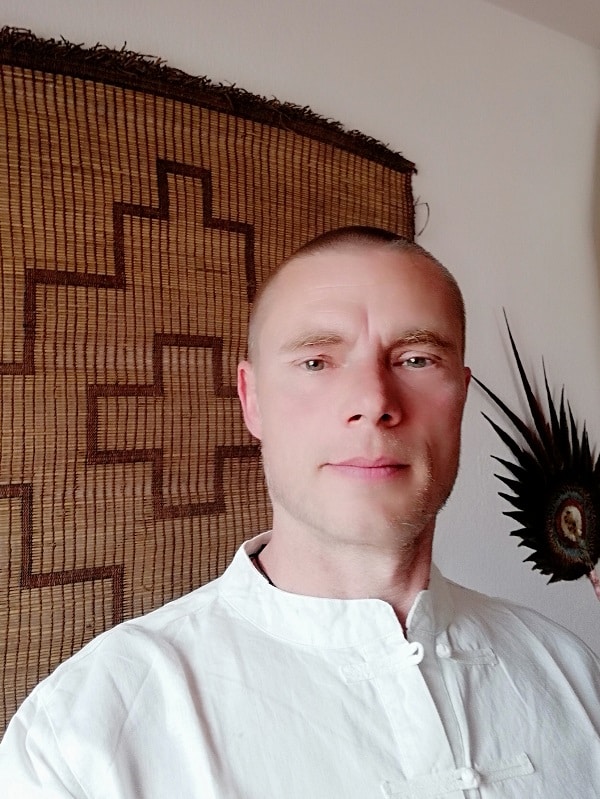 Alte Abtswinder Straße 78

, Wiesentheid,

Germany

97353
Über mich / About me

2015 befand ich mich in einer schweren, persönlichen Krise. Nach langer, ergebnisloser Suche auf physischer Ebene, erkannte ich dass der Schlüssel meiner Heilung auf anderen Ebenen zu suchen ist. So kam ich das erste Mal mit Rei-ki, schamanischen Reisen und schamanischen Sitzungen in Kontakt. Aus den Fortschritten schöpfte ich Kraft und Mut. Mein Interesse war geweckt mich mehr und tiefer mit den heilsamen  Kräften der Natur, der Energetik und dem Schamanismus zu beschäftigen. Verschiedene Ausbildungen folgten. Mit dieser Erfahrung und den mir zur Verfügung stehenden Tools möchte ich Sie aktiv auf Ihrer Lebensreise unterstützen und begleiten. Der klassische Weg des verwundeten Heilers.
2016 gründete ich ein kleines Unternehmen für Räucherwerk, Klangschalen und Trommeln. Seit 2017 biete ich Energetische Sitzungen sowohl vor Ort als auch über Distanz an.  Ich wohne mit meiner Lebensgefährtin in Wiesentheid, einer kleinen Ortschaft zwischen Nürnberg und Würzburg.
In 2015, I found myself in a serious personal crisis. After a long, fruitless search on the physical level, I realized that the key to my healing is to seek on other levels. So I first came into contact with Rei-ki, shamanic travels and shamanic sessions. From the progress I drew strength and courage. My interest was awakened to deal more and more deeply with the healing powers of nature, energetics and shamanism. Various training courses followed. With this experience and the tools at my disposal, I want to actively support and accompany you on your life journey. The classic path of the wounded healer.
In 2016 I founded a small company for incense, singing bowls and drums. Since 2017, I have been offering energetic sessions in person and over distance. I live with my partner in Wiesentheid, a small village between Nuremberg and Würzburg.
Angebot / Services
Schamanische Sitzungen vor Ort und über Distanz – shamanic healing sessions in person and remotely:                                                             Auflösen von Stresszuständen, Illuminationen,  Entfernen von schweren Energien, Seelenrückholungen, schamanische Reisen – decoupling, illuminations, extractions, soul retrievals, shamanic journeys.
REI-KI Einweihungen/Ausbildungen im traditionellen Rei-Ki nach Dr. Mikao Usui – Initations in traditional Rei-Ki of Dr. Mikao Usui
REI-KI Sitzungen: Chakren Ausgleich,  Energetische Sitzungen – REI-KI Sessions: chakra balance, energetic sessions
Vollmond Feuerzeremonie in Andentradition, Blütenzeremonie, Tabakbeutel – fire ceremony in andean traditons, despacho, tobacco ties
Reinigung von Gebäuden und Grundstücken – clearings of land and buildings
In freier Natur: Kontakt mit den Baumwesen, Mandala, Spiralbau
Trommelbau- und Räucher- Workshops (Produkte finden Sie unter www.weltenrauch.com) – Drum Construction & Incense Workshops
Kostenfreies Vorgespräch nach Terminvereinbarung von ca. 15 Minuten vor der Sitzung.
Zertifikate / Certification
Oktober 2019 Erdhüter Elemente – Earthkeeper Elements
März 2020 Absolvent Erdhüter Lehrgang 13 Monate – Klang, Medialität, Verbindung mit der Natur / Pflanzen & Baumwesen – Earthkeeper Graduate, Sound, Mediality, Connection with Nature /Plants and Tree
August 2020 REI-KI  Meister/Lehrer – REI-KI Master/Teacher
Dezember 2020 Absolvent der Light Body School Online Training Programm, Schamanische Energie Medizin –                                                      Graduate of the Light Body School´s online training programm, shamanic energy medicine